As a Seller, you can process payments through BlueSnap in order to enable affiliates to receive their commissions through JVZooPay. To configure your BlueSnap account, go to My Account > Payment Profiles or click here. Click the "Select" button under Seller.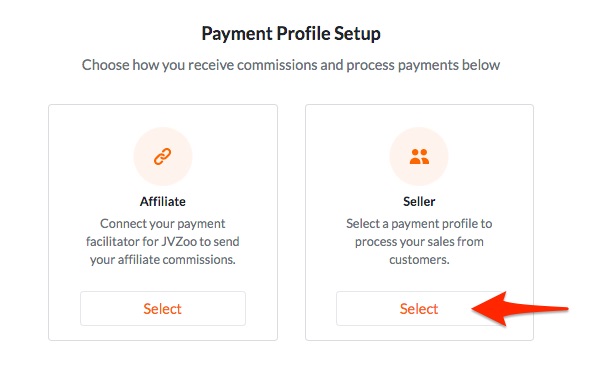 And click "Setup Stripe."
Click the arrow to open up the instructions on how to connect your BlueSnap account. There you will find instructions on how to link your account whether you already have one or need to sign up for one.
If you do not currently have a BlueSnap account, click the orange link to sign up for a BlueSnap account or click here and fill out all the information requested by BlueSnap.
Once you have been approved for a BlueSnap account, you will receive a welcome email with additional steps that must be completed before your account is live and available for processing payments.

The checklist is as follows:
Under Settings > General Settings - Email Settings: Check and verify all email addresses are set and correct.
General Settings - Branding Settings: Check and make sure you have both Default Statement (Soft) Descriptor and Support phone number entered. The Default Statement (Soft) Descriptor needs to be a company name or web address. Also, make sure you complete all the additional fields under Branding Settings. This includes the URL links from your website for the following: Terms & Conditions Privacy Policy and Refund Policy, as well as either your Tax ID or VAT/GST ID.
General Settings - Notifications/IPN's: This is optional, but BlueSnap recommends that it should be enabled.
Under Settings > API Settings: Request and check to be sure you have entered your production IP Addresses, if you know them, or check the box next to Disable IP Checking, then click the orange "Request API credentials" button.
Under Settings > Payout Method - Payment Settings: Check and ensure this is setup correctly. Please be sure to set up Refunds Reserve.
Under Settings > Accounts. This is optional, but if you would like to add an assistant to have access to your account, enter the information here and click the orange "Submit" button.
Once you have completed all of the above, reply to the welcome email from BlueSnap to confirm that everything is complete and to have your account made live.

Once your BlueSnap account is live, login to BlueSnap and click Settings and choose API Settings from the dropdown menu.
Under API Credentials you will find your API Username and API Password. Scroll down to find your Client Side Encryption Key.
Enter your API Username, Password and Client Side Encryption Key on your BlueSnap payment profile on JVZoo.
After you have entered the information, click the orange "Save and Enable" button. You will see a message in green that your account has been linked.
Next, you will need to enable this payment processor on your products. You can enable it on all your products by clicking the "Use for all Products" button as shown here:
Or you can set it on specific products by clicking the edit button next to that product and checking the BlueSnap option under the Payment Options section.
If you wish to unlink your account, simply click the yellow "Disable" button.