To set up an affiliate contest go to Sellers > My Contests.
Before you can add a contest you must have products listed in your account. Click the orange "New Contest" button.
On the next screen you will enter your Contest Name, Select the product for your contest from the dropdown menu, set the start date and end date.

In addition, you will need to choose how to calculate your contest results. We offer 3 options:
Total Sales Count - this will count all the sales made by the affiliate
Gross Sales Amount - this is the number of gross dollar sales that the affiliate has made
Affiliate Earnings - this is the amount that the affiliate has earned
You can also choose to Apply the contest to a funnel by selecting the funnel in the dropdown menu. If you have more information about your contest, you can add the url to that page for affiliates to view.
If you want affiliates to be able to locate your contest under the new Find Contest feature, check the box as indicated. In addition, you have the option to include refunds in your calculations by checking the box shown above. If you do not check this box, refunds will not be included and positions on the leaderboard will adjust as refunds are processed.
Next you can upload a contest banner that will be displayed on the page. The file can be jpg or png. To add an image click the blue "Select Image" button.
Lastly, you can enter the prize count and the amount of the prize. You can enter up to 10 prizes and have them displayed on your contest page. Please enter the prizes in dollar amounts with no commas.

Then hit the orange "Save" button. You will then be taken to your leaderboard where you will see information about your contest as it appears for affiliates.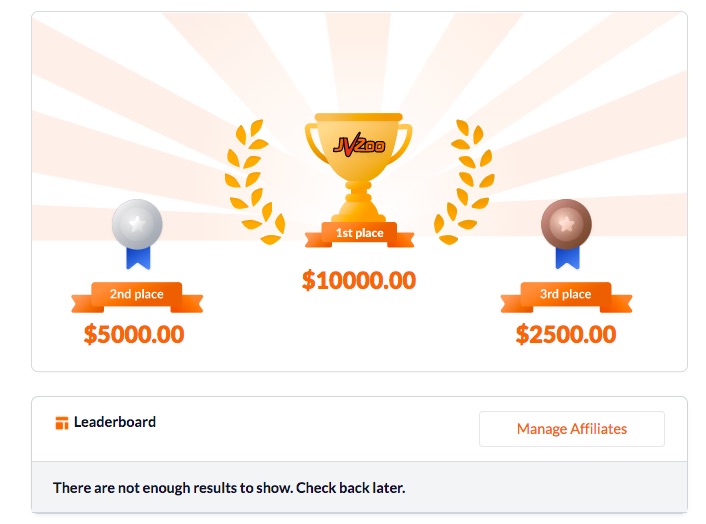 To watch a video on how to set up a contest, click here.